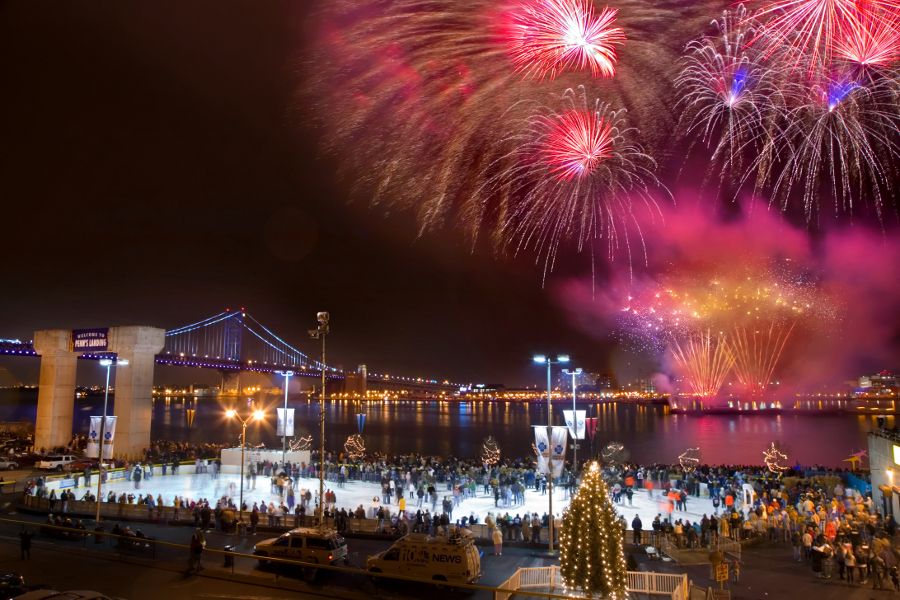 Update: For 2018/2019 events, check out Ring In 2019! New Year's Eve Celebrations in Philly (& Nearby).
Don't have plans yet for saying goodbye to 2017 and hello to 2018? If you plan to spend New Year's Eve in Philadelphia and the surrounding area then I've got some ideas for you! Take the day, or longer!, off and enjoy your last day trip from Philadelphia for the year. Seemingly every restaurant or nightspot has something special going on for the last night of 2017. I'm highlighting eleven events that I think are some of the most traditional, unique or fun. But no matter where you go or what you do, have a good time and here's to a happy, healthy and safe 2018!
1. New Year's Eve in Philadelphia Fireworks on the Waterfront
Taking in the New Year's Eve fireworks in Philadelphia along the Delaware Riverfront is probably THE most classic of Philadelphia celebrations. Hosted by SugarHouse Casino, there are two firework shows: one at 6 pm and another at the stroke of midnight. So no excuses to miss out no matter your age or bedtime.
In addition to the waterfront fireworks, there are lots of other activities along the Delaware River including the Blue Cross RiverRink Winterfest.
2. New Year's Eve Ball Drop in Media
Media, everybody's hometown (including mine! The town is where I grew up.), holds an annual ball drop on New Year's Eve at the corner of State and Jackson Streets. The fun kicks off at 11 pm when live entertainment is provided by Philly Gumbo. The event is free and goes on rain, snow or shine so be sure to dress appropriately!
3. Annual Mushroom Drop
You may already know that Kennett Square is the Mushroom Capital of the World but did you know that they celebrate New Year's with a mushroom drop? This year will be the fifth annual mushroom drop. There is also plenty of food (with a mushroom slant) and music!
4. Hershey New Year's Eve
ChocolateTown is a lot closer than you think. And Hershey, PA holds a big bash to ring in the New Year. The free event includes dropping a 7-foot tall and 300 pound Hershey's Kiss three storeys! There will also be a performance from American Idol star Kris Allen.
Local businesses and churches in Downtown Hershey will also be hosting all kinds of events. You can really make a nice trip out of it!
5. New Year's Eve Ghost Tour
While most of us are looking ahead, the folks at Ghost Tours of Philadelphia are looking to the past. They'll be hosting their eighth annual New Year's Eve Ghost Tour of a Society Hill mansion. Sounds spooky!
6. Watch from the Battleship New Jersey
Sure, you could watch the fireworks on Delaware River from the waterfront. But why not watch them on the river? The Battleship New Jersey will be open to revelers before both the 6 pm and midnight shows for only a rather reasonable $10 donation. There will be music, food concessions, bar service and after the fireworks they fire off the 5-inch gun on board the battleship!
7. NYE in Lancaster
As I showed earlier this year, there's more to Lancaster than just Pennsylvania Dutch Country! During the last two hours of 2017, Binns Park in Lancaster will hold a free New Year's Eve celebration. There will be a concert from the Big Fat Meanies, the lowering of the Red Rose and, of course, fireworks.
8. NYE 2018 Midnight from the Top
Anyone can shiver along the Delaware River waterfront for the fireworks. But One Liberty Observation Deck is hosting an exclusive black tie party to ring in the New Year in style. In addition to the impressive view over the city from 57 floors up — including the fireworks — the party includes a DJ, open bar and hors d'oeuvres.
9. Please Touch Museum's Kid-Friendly New Year's Eve
If you've got little ones, this one is especially for you. The always popular children's museum the Please Touch Museum will be holding its annual celebration for New Year's Eve in Philadelphia. They host fun events, music and story time for children of all ages and cap it off with a ball drop at noon and an hour later at one.
10. Philadelphia Orchestra's New Year's Eve Concert
There's likely no classier way to end a day, let alone a year, than by attending a concert by the Philadelphia Orchestra. This year the orchestra will be continuing their annual tradition with a New Year's Eve concert. The show doesn't run until midnight so you'll still have time to keep the party going!
11. New Year's Eve on the Rails
Don't go off the rails this New Year's Eve. The Colebrookdale Railroad in Boyertown takes riders on scenic trips along a more than eight mile stretch of track in a locomotive. And they're offering a special New Year's Eve on the Rails with a complimentary glass of champagne and light hors d'oeuvres.
Hershey photo used courtesy of Hershey, PA website. Photos by G. Widman for Visit Philadelphia®.