Update: For 2018 events, check out 45 Festive Ways to Celebrate Christmas in Philly Region.
The holidays are here and Christmas in Philadelphia offers all the cheer, shimmer and joy that you would expect. Kids of all ages will feel that festive thrill when they explore the holidays in Philadelphia. No matter what gets you feeling festive, there is something for everyone. I've put together a list of 28 things to see and do during Christmas in Philadelphia (and the surrounding area) in 2017!
Many of these things to see and do are winter activities in Philadelphia aren't limited to Christmas just the holiday season. There are lots of fun things to do this winter, no matter what holidays you are or aren't celebrating!
1. A Longwood Christmas
A Longwood Christmas is a holiday tradition for many families. Each year the talented folks at Longwood Gardens in Kennett Square turn their greenhouses, gardens and buildings into a holiday wonderland. And each year they outdo themselves! You will have to plan ahead for Longwood Gardens with a timed ticket. Also consider visiting in the evening in order to enjoy the holiday lights!
2. Philadelphia Tree Lighting Ceremonies
Seemingly each neighborhood in the City of Brotherly Love has its own Christmas tree. The same is true with all of the suburbs and surrounding areas. You could likely make a day (or two) of simply visiting them all. Rittenhouse Square will be holding a tree lighting ceremony for its tree on Tuesday, November 28th. Mark your calendar for the rest of the tree lightings.
3. Winter Wonderland Tea at A Taste of Britain
If you haven't been to A Taste of Britain in Wayne for their afternoon tea service or English comfort food you now how the perfect excuse. On three Sundays in December (3rd, 10th and 17th), the charming tea house will be hosting a reservation-only Winter Wonderland Tea. The utterly indulgent (and delicious) menu includes spinach and chevre puff pastry as well as English-inspired favorites like the Bakewell tart.
4. Brandywine River Museum
Each year the Brandywine River Museum of Art treats kids (and kids at heart) to a special holiday treat. The highlights of Brandywine Christmas include a O-gauge model train display using more than 1000 pieces and approximately 2000 feet of track as well as an impressive Victorian dollhouse.
5. Yuletide at Winterthur
Winterthur, the former home of Henry Francis du Pont, gets festive each year for its Yuletide at Winterthur exhibit. Some of the decorations on display date all the way back to the 19th century and there's an exhibit on the history of the Christmas tree. Much like Longwood Gardens, another Du Pont family property, Winterthur requires timed tickets so plan ahead!
6. Herr's Christmas Snacktacular & Holiday Light Display
The popular snack food company Herr's is based just outside of Philadelphia in Nottingham, Pennsylvania. And while you can always visit to see how they make their tasty treats, the company does something a little special this time of the year. On December 20th, they're hosting a Christmas Snacktacular with hayrides, real reindeer and, of course, Santa Claus. They've also got a special holiday light display through January 1st.
7. Christmas in Kennett
Every Saturday through the end of the year, Historic Downtown Kennett Square is a special holiday destination. Carolers stroll through the streets, restaurants and cafes serve wonderful treats and shops offer unique gifts. They're also running a shuttle between Kennett and Longwood Gardens so consider visiting both if you have the time!
8. Christmas Village
During the holiday season Christmas markets pop up all across Europe. The ones in Germany are perhaps some of the most legendary. For the last decade, the tradition has come to Philadelphia. The Christmas Village's stalls dot the landscape of LOVE Park in Center City selling unique gifts. You can also enjoy delicious food, including German specialties!
9. Celebrate the Holidays at the Philadelphia Museum of Art
From now through the end of the year the Philadelphia Museum of Art is hosting festive events for you to take in after you check out their priceless collection. (The current exhibit, Old Masters Now, is a must see!) From making holiday cards to ugly sweater parties, they're keeping things light and fun.
10. Go Ice Skating
With temperatures dipping lower, outdoor ice rinks are opening up across the city. From the Rothman Ice Rink smack dap in front of City Hall in Dilworth Park to the Blue Cross RiverRink at Penn's Landing, there are plenty of ice skating rinks to choose from. Even if ice skating isn't your cup of tea, many have additional attractions to appeal to the less athletic among us. Think hot chocolate, fire pits and indoor spots to warm up.
11. Macy's Christmas Light Show
For more than a half of a century, the Macy's in Center City has been an annual holiday tradition for many families. From now through the end of the year, the department store has a light show narrated by Julie Andrews as well as a 40′ tall Christmas tree. You can also, of course, stop in to see the big man himself in Santaland and visit Dickens Village. Assuming that you've been good all year.
12. Comcast Holiday Spectacular
The Comcast Center is currently the city's tallest building. And just in the building's lobby is one of the world's largest and highest-resolution LED display walls. Each year visitors flock on the hour from 10 am to 8 pm to watch the 15 minute-long holiday show.
13. Franklin Square Holiday Festival
Take in PECO's Electrical Spectacle Holiday Light Show at Franklin Square to enjoy more than 50,000 lights synchronized to a soundtrack performed by the Philly POPS. Afterwards, stick around for things like a winter beer garden and a special holiday train ride on the Lightning Bolt Holiday Express. There will also be other events, such as a Hanukkah celebration on December 8th.
14. Miracle on South 13th Street Holiday Light Display
If you're looking for the true spirit of the season, look to Miracle on South 13th Street Holiday Light Display. On the 1600 block of South 13th Street, the neighborhood comes together to decorate with lights, lights and more lights.
15. Jewelers' Row Holiday Lights
If you're already downtown experiencing Christmas in Philadelphia by shopping or visiting holiday events, be sure to stop by Jewelers' Row. The section of Sansom Street between 7th and 8th Streets and 8th Street between Chestnut and Walnut Streets see the historic neighborhood lit up by lights as businesses challenge each other in a good natured holiday rivalry.
16. Boathouse Row Lights
Philadelphia Boathouse Row is a timeless scene set just beside the Philadelphia Museum of Art. And while the boathouses, outlined in lights, look breathtaking all year long, there's a certain special feeling once it starts to get a little cooler. Take a drive along Kelly Drive or along the trails lining the river to admire the festive decorations.
17. Philadelphia Ballet's George Balanchine's The Nutcracker
The Philadelphia Ballet's annual performance of George Balanchine's The Nutcracker is another one of those time honored traditions. The classic tale is brought to life and is sure to delight children of all ages.
18. A Philly Pops Christmas
The Philly POPS are outdoing themselves this year. For each of their eleven holiday shows, they will feature a full orchestra, three choices, acclaimed soloist (and local boy!) Justin Hopkins, an audience sing-a-long and, of course, a visit from Santa himself. If this spectacular musical performance doesn't get you in the spirit then you're simply not trying!
19. Christmas Festival at Peddler's Village
Just outside of Philly in Bucks County is Peddler's Village. The shopping center will be holding its annual Christmas Festival the first weekend of December. From a Santa parade to a gingerbread house competition, there's lots of fun planned!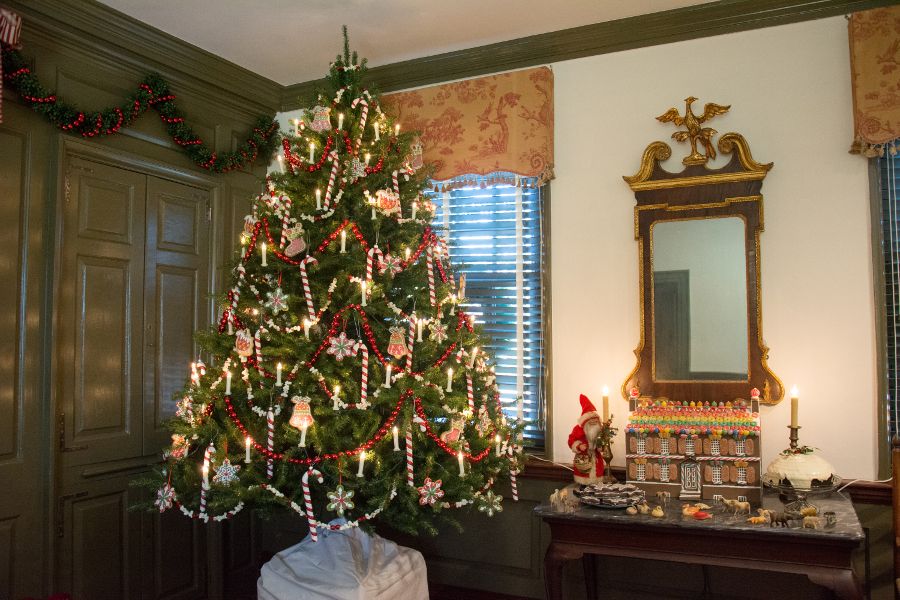 20. Holidays at Historic Odessa
About an hour and a half south of Philadelphia, the small town of Odessa, Delaware knows how to celebrate the holidays. The historic homes of the preserved town show off a special tradition and charm. This year, they have recreated "'Twas the Night Before Christmas" in the Wilson-Warner House while elsewhere community decorated trees bring everyone together. I really enjoyed taking in the holidays at Historic Odessa and really recommend it!
21. Reading Terminal Holiday Railroad
Choo-choo! Reading Terminal Market in the heart of Philadelphia has a brand new Holiday Railroad train display this year. Five unique scenes and 25 individual trains will race around over the heads of shoppers in the market!
22. Christmas Underwater at the Adventure Aquarium
Did you know Santa knows how to scuba dive? (Trick question: obviously he can do anything.) From December 2nd through December 30th, you can visit the Adventure Aquarium in Camden, New Jersey, to see Scuba Santa and the world's tallest underwater Christmas tree.
23. Morris Arboretum's Garden Railway
Over at the University of Pennsylvania's Morris Arboretum you can visit their holiday garden railway daily through the end of the year. All of the displays and buildings in their railway are made of natural materials, giving it a special feel.
24. Holiday Lights at Shady Brook
Shady Brook Farm in Yardley sells all the fresh holiday decorations you'll want to deck your halls at home. But they've also got a holiday light show that you can enjoy during a wagon ride or from your own car through January 7th.
25. Historic Holiday Nights in Old City
Through December 28th, celebrate with Historic Holiday Nights in Old City. More than 50 boutiques, shops, galleries, museums (including Elfreth's Alley and Museum of the American Revolution), restaurants and cafes (like The Little Lion) in the neighborhood are offering discounts, specials and events to add some extra fun to the season.
26. A Very Philly Christmas with the Historic Houses in Fairmount Park
This year celebrates the 46th Christmas in Fairmount Park and the theme is appropriate: A Very Philly Christmas. Five historic houses in Fairmount Park will be putting on their holiday best this year. Grab your tickets to visit these beautiful 18th and 19th century homes. There are also special holiday events being held, too!
27. Bethlehem: Christmas City
North of Philadelphia in Bethlehem — no, not that Bethlehem — the city has been calling itself the "Christmas City" since 1937. From historic homes decorated for Christmas, carriage rides, a live advent calendar and a German-style Christkindlmarkt, there's no shortage of holiday action in Bethlehem.
28. Menorah Lighting on Boathouse Row
Celebrate all the holidays this season by celebrating Hanukkah with the menorah lighting on Boathouse Row on December 12th.