Philly is always festive but each year from November through December, the city puts on its best for the holidays. And that's true for the surrounding area, too. Each year there are Christmas and holiday events in Philadelphia that are traditions for visitors of all generations. But there are also some fun new and unique Christmas and holiday events in and around Philadelphia for 2018. If you're looking for a weekend getaway or just for an afternoon, there are lots of fantastic day trips from Philadelphia. No matter what festival or festivals you celebrate, enjoy a little holiday cheer with these 45 Christmas and holiday events and things to do in Philly in 2018! Then ring in 2019 and say goodbye to 2018 with events across the region.
Christmas & Holiday Events in Philadelphia
Philadelphia Christmas Village
For the last decade, the Christmas Village at Love Park, across from City Hall, has been a Philly tradition. Visitors can browse dozens upon dozens of booths, many selling locally made products. But the German-style Christmas market maintains many of its influences. You can buy German sweets or go home with ornaments and decorations from the famed Käthe Wohlfahrt. The Philadelphia Christmas Village is open from November 22nd through December 24th.
Dilworth Park Winter
Starting on November 9th, Dilworth Plaza transforms into a magical winter wonderland. The plaza that wraps around City Hall plays host to the Rothman Orthopaedics Ice Rink, the Rothman's Orthopaedics Cabin, and Wintergarden. A little later, on the 17th, a Made In Philadelphia Holiday Market will open. As if all of that wasn't enough, City Hall itself will get in on the action, becoming the canvas for a holiday light and music show.
The Comcast Holiday Spectacular
Visitors flock to the lobby of the Comcast Building at 17th Street & John F. Kennedy Boulevard each holiday season. There all eyes are on the super high-resolution LED display screen which plays the Pennsylvania Ballet's "The Nutcracker," a city sleigh ride, and a 15-minute sing-along. The fun takes place every day from November 22nd through January 1st on the hour from 10am until 8pm, with the exception of 5 pm on weekdays.
Macy's Christmas Light Show
Since 1956, Wanamaker and now Macy's have put on a special holiday show within the department store and brought joy to generations. The eleven minute light show runs in the Grand Court from November 23rd through December 31st every two hours from 10am until 8pm. The famous Wanamaker Organ is used for the finale of the noon light show, except on Sundays, and at the end of the 6pm show, except on Wednesdays, Fridays, and Sundays. All other shows use a recording of the organ. There's also the Dickens Christmas Village on the third floor holiday lane where you can visit with Santa Claus.
Franklin Square Holiday Festival
You may not associate mini golf and a carousel with Christmas but the Franklin Square Holiday Festival makes it work. From November 15th through the end of the year, Franklin Square Holiday Festival celebrates with fun attractions, sweets, and a winter beer garden. There's also the Electrical Spectacle Holiday Light Show presented by PECO to really electrify things. Throughout the holiday season, there are special events, like a Hanukkah celebration and visits from both Santa Claus and The Grinch (but on separate days!).
Blue Cross RiverRink Winterfest
This year the Blue Cross RiverRink Winterfest will, unbelievably, celebrate its 25th year! The ice skating rink is set next to the Delaware River and in the shadow of the Ben Franklin Bridge. It's a charming and classic way to spend an afternoon or evening. If ice skating isn't your thing, you can hang out at the outdoor fire pits or in the warming cabins. There's even a Franklin Fountain Confectionary Cabin as well as a chalet-inspired lodge with food and drink from Garces and Philly standard Chickie's and Pete's.
Pennsylvania Ballet Presents George Balanchine's The Nutcracker
The Philadelphia Ballet's annual performance of George Balanchine's The Nutcracker is another one of those time-honored traditions. The classic tale is brought to life and is sure to delight children of all ages.
Philadelphia Museum of Art Tree-Lighting Celebration
On November 21st, the Philadelphia Museum of Art will kick-off their holiday tradition of lighting a tree at the top of the Rocky steps. The celebration includes lots of music from the likes of the York Street Hustle and the Sister Cities Girlchoir. The event is just the first of many the museum has planned for the holiday season. Their Final Fridays events on Friday evenings will keep a festive attitude with an ugly sweater party and more. Check their schedule for more details.
Trolley Tour: A Festive Tradition
Get a traditional taste of the holidays with a trolley tour of three Fairmount Park historic homes from December 13th through December 16th. The tour leaves from the Philadelphia Museum of Art and tickets for $40 (or $32 if you're a museum member).
Holidays in Manayunk
If you're looking for a busy and festive holiday season, Manayunk is the place to be! Manayunk has a full schedule of events for the holidays. Starting on November 24th (mark your calendars, it's also Small Business Saturday!), the neighborhood will host a tree lighting ceremony. They'll host Holiday Strolls every Thursday while on the first of December the 3rd annual Promenade of Trees will let visitors pick their favorite tree in the "Christmas vacation" theme.
Miracle on South 13th Street Light Show
If you're looking for the true spirit of the season, look to Miracle on South 13th Street Holiday Light Display. On the 1600 block of South 13th Street, the neighborhood comes together to decorate with lights, lights, and more lights.
Morris Arboretum of the University of Pennsylvania's Garden Railway
Over in Chestnut Hill at the Morris Arboretum of the University of Pennsylvania, you can visit their holiday garden railway daily through the end of the year. All of the displays and buildings in their railway are made of natural materials, giving it a special feel.
Christmas & Holiday Events in Philadelphia Suburbs
Head to Philadelphia's suburbs or even a bit farther for a special holiday day trip. Here are a few favorites to keep your holiday traditions alive or create new family memories.
A Longwood Christmas
Christmas at Longwood Gardens never disappoints. The botanical gardens in Kennett Square, established by a member of the DuPont family, goes all out each holiday season. There are countless poinsettias, Christmas trees, and lights not to mention the garden's newly restored fountains. If there's one holiday attraction you visit, this may be it. A Longwood Christmas runs from November 22nd through January 6th.
Winter Wonderland Tea at A Taste of Britain
Personally, I don't need an excuse to visit A Taste of Britain. In our family, it's a perfect his and hers: their afternoon tea never disappoints me and my husband loves their classic British cuisine. But for the holidays they do a special Winter Wonderland Tea on Sundays between Thanksgiving and Christmas. The Winter Wonderland Tea features with a special menu. Don't delay: reserve your seat today. It's the perfect excuse to take an afternoon to relax and indulge during the busy holiday season.
Christmas in Peddler's Village
Just outside of Philly in Bucks County is Peddler's Village. The shopping center will be holding its annual Christmas Festival the first weekend of December. From a Santa parade to a gingerbread house competition, there's lots of fun planned!
Kennett Square Holiday Village Market
Mark your calendars for December 1st, 2nd, 8th, and 9th then head to Kennett Square. The historic town will be hosting Kennett Square Holiday Village Market, a curated open-air artisan market where you'll be able to find one of a kind holiday gifts for your nearest and dearest. You can also expect food trucks, live music, and more festive events.
Holidays in Historic Kennett Square
In addition to Longwood Gardens and the Holiday Village Market, Kennett Square has plenty of other holiday events planned. Visitors can enjoy events like a holiday light parade and tree lighting on November 23rd, horse-drawn carriage rides on Sundays in December, and the Brandywine Singers' holiday caroling. If these events don't get you in the holiday spirit, nothing will!
Brandywine Christmas
The Brandywine River Museum of Art is captivating any time of the year with its remarkable collection of art, including a large collection of works from the Wyeth family. But each year visitors come for Brandywine Christmas to see a special display of the Brandywine Railroad O-gauge model train. Rail enthusiasts are captivated by nearly 2000 feet of track and more than a 1000 pieces ranging. The trains and trolleys roll through farms, towns and even a carnival.
March In of the Continental Army
While not holiday-related per se, General George Washington and the Continental Army had a busy December way back in 1777. The troops marched into Valley Forge, where they would spend the winter for the next six months. On December 19th, Valley Forge National Historical Park will commemorate the date with candle-lit tours, musical performances. General Washington himself will even be there!
Holiday Organ Concert & Holiday Revue
The Colonial Theatre famously hosts Blobfest each year in between their normally busy schedule of concerts and films. But for the holidays, they'll have a special concert. On December 9th, the theatre will host a holiday organ concert featuring their Wurlitzer.
Historic Trappe Candlelight Tours & Tree Lighting
The town of Historic Trappe will let visitors experience Pennsylvania German Christmas traditions through period dress and live music at the Henry Muhlenberg House. You can also count on fresh gingerbread and other goodies! The candlelight tours will take place December 1st and 2nd. A few days late on the 5th, Historic Trappe will host a tree lighting ceremony at the Speaker's House.
Victorian Christmas Open House at Pennypacker Mills
Pennypacker Mills will host a Victorian style Christmas open house on December 8th. A Victorian Santa Claus will greet visitors will reenactors will bring the mansion to life. From decorations to toys, visitors will get a taste of a historic Christmas.
Christmas & Holiday Events in Pennsylvania
Christmas at the Capitol
It's difficult to imagine the Pennsylvania State Capitol Building in Harrisburg being any more spectacular than it already is. The building is lavishly decorated and covered in incredible works of art. But during the holiday season, the Capitol puts on its Holiday best by celebrating Christmas and Hanukkah. You can take in the giant Christmas tree that sits in the Capitol Rotunda or enjoy what is the city's largest menorah. Visitors can take a free guided tour of the Pennsylvania Capitol Building year round but during the holidays, it's extra special.
Hersheypark® Christmas Candylane®
The Sweetest Place on Earth has a special holiday attraction on select dates from November 16 through the first of the New Year. To celebrate, Hersheypark offers special festive live entertainment and decks itself out in millions of twinkling lights. It goes without saying you can expect to see Santa and his trusty reindeer, too.
Harrisburg Holiday Parade
Pennsylvania's capital, Harrisburg, celebrates the holidays with a parade on November 17th. You can expect music, floats, those giant parade balloons. You can keep warm with free cookies and cocoa, too!
Central PA Youth Ballet Performs The Nutcracker
Over two weekends in December — one in Harrisburg and another in Hershey — the Central PA Youth Ballet will perform the Christmas classic George Balanchine's The Nutcracker.
Christmas at Fort Hunter
Harrisburg's Fort Hunter has a full schedule of festive holiday events. Starting on December 1st and leading up to Christmas, the mansion will be decked out in festive Victorian decorations thanks to the Civic Committee of the Garden Club of Harrisburg. Meanwhile, the Keystone Model Railroad Historical Society will have a special toy train exhibition of H0 gauge trains. There's also a special Festival of Trees co-sponsored by the Harrisburg Area Garden Center with trees trimmed in handmade ornaments by local garden clubs. You can even take an ornament home with you, too!
Koziar's Christmas Village
This year, Bernville, Pennsylvania, will light up for its 71st time. Koziar's Christmas Village is a classic holiday delight in Berks County. More than a half million Christmas lights decorate buildings and landscape alike. The fun kicks off November 3rd.
Jim Thorpe's Olde Time Christmas
Nestled in the Pocono Mountains, Jim Thorpe is a charming day or weekend trip year-round to enjoy its Victorian buildings or the Lehigh Gorge Scenic Railway. The town celebrates the holidays with an Olde Time Christmas that kicks off with a tree lighting on November 30th. Weekends in December see all kinds of festive events from train rides on the Lehigh Gorge Scenic Railway with Santa to strolling carolers. There's no shortage of holiday events on the schedule in Jim Thorpe!
Quiet Valley Living Historical Farm's 28th Annual Old Time Christmas
A holiday tradition for going on 28 years, Quiet Valley Living Historical Farm celebrate with their annual Old Time Christmas. Visitors can enjoy lantern-lit tours of the 19th-century farm in Stroudsburg while nibbling cookies and sipping hot chocolate. There's also a live Nativity in the barnyard as well as other 19th century Victorian traditions.
Bethlehem's Christmas City
Since 1937, Bethlehem, Pennsylvania has been Christmas City. From historic homes decorated for Christmas, carriage rides, a live advent calendar, and a German-style Christkindlmarkt, there's no shortage of holiday action in Bethlehem.
Dutch Winter Wonderland
The whole family can enjoy the festivities at Dutch Wonderland's Dutch Winter Wonderland. The amusement park will feature themed rides, visits with Santa, a Royal Light Show, and more.
Lancaster City Mayor's Tree Lighting
Penn Square will serve as the central focal point of holiday events in Lancaster. From November 23rd through the end of the year, Lancaster City for the Holidays will feature dozens of special events. It all kicks off with the Mayor's Tree Lighting and Tuba Christmas.
Strasburg Rail Road Christmas Trains
Even flying reindeer get a few days off. So how does Santa travel instead? In style by rail, of course! The Strasburg Rail Road will be running several holiday events, including Santa's Paradise Express, Santa's Christmas Trolley, and The Night Before Christmas Train. There's also the Christmas Tree Train which takes riders to Leaman Place Grove to select a pre-cut tree. Then, your tree is delivered to the station by steam on a flatcar back!
Yuletide at Wheatland
Wheatland, the home of President James Buchanan, comes to life for the holidays! Yuletide at Wheatland celebrates with festive decorations and guided tours of this historic home.
Christmas Drive-Through Light Show
Let's be honest, you've got enough on your plate anytime of the year let alone at Christmas. The Star Barn Village makes the holidays special with a Christmas light display along a 2-mile long drive that you can enjoy from the comfort (and warmth!) of your own car.
Christmas & Holiday Events in Delaware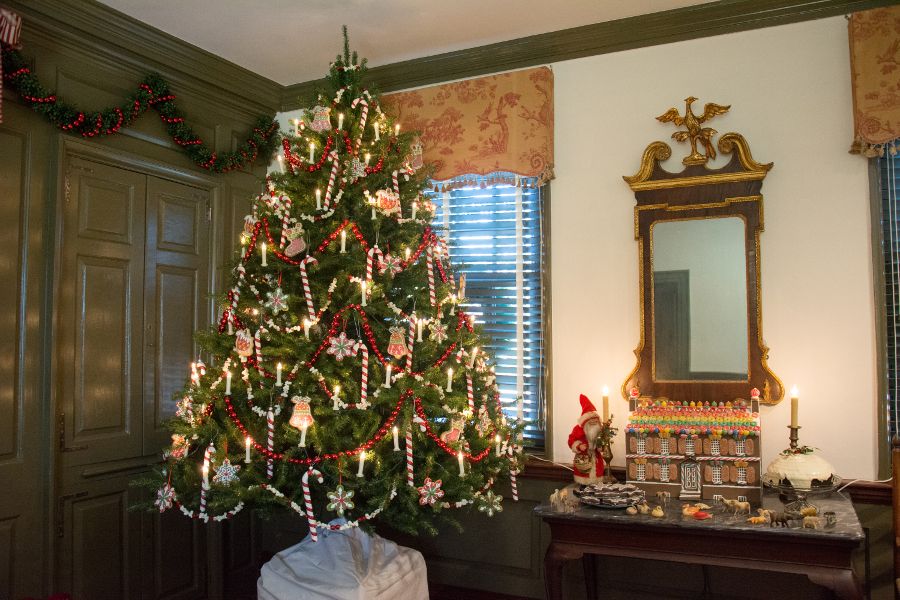 Historic Odessa
The Historic Odessa Foundation will continue their holiday tradition of decorating the village's historic homes by celebrating the 175th anniversary of Charles Dickens' A Christmas Carol. The special exhibition and holiday tours will run from November 13th through December 30th. Last year I toured Historic Odessa for the holidays and it was absolutely charming. I highly recommend it!
Yuletide at Winterthur
Just outside of Philadelphia and Wilmington, Delaware, is Winterthur Museum, Garden & Library. Set in a historic home, Winterthur is worth a visit in and of itself. During the holiday season, the former mansion of Henry Francis du Pont becomes a holiday dream with spectacular decorations including glass ornaments, twinkling lights, and a dollhouse. Yuletide at Winterthur is a festival showcase for the entire family.
Holidays at Nemours Estate
Visitors to Nemours Mansion can experience a spectacular tour any time of the year, but starting on November 17th they will get to see the beautiful mansion and gardens in its holiday best during their Holidays at the Estate event. 19th-century decorations, including some original to Alfred I. duPont and family, will join ornaments made by patients at Nemours Alfred I. duPont Hospital for Children.
During December, visitors to Hagley or Nemours who show proof of purchase at one museum will get a 50-percent discount at the other. The discount applies to an adult ticket (including seniors), with a limit of two per proof of purchase. The discount is valid for daytime events only and is not valid for special events.
Wilmington Ballet Academy of the Dance presents the Nutcracker
The Playhouse on Rodney Square will host the Nutcracker ballet for the 52nd time this year. Talk about a tradition! This production features, among others, a full orchestra and 100 dancers from the Wilmington Ballet and the HAC School of Dance. Shows are on Saturday, December 8th and Sunday, December 9th.
The Spirit of Christmas in Historic New Castle
On December 8th, New Castle Presbyterian Church is sponsoring a special holiday event in the town of New Castle, Delaware. Across the town, private homes and churches in their holiday best while there will also be special musical events for the Spirit of Christmas in Historic New Castle. The event runs rain or shine.
Holidays at Hagley
From November 23rd at the Hagley Museum in Wilmington, visitors can enjoy Holidays at Hagley. The du Pont family home, Eleutherian Mills, will feature holiday decorations reflecting the family's French roots. Of special interest is the museum's The Magic of Miniatures exhibit with dollhouses that will thrill children of all ages.
Hagley will also be hosting their first Gingerbread House Contest. Visitors can vote for their favorite edible architectural delight through January 1st. And on December 8th you can take a self-guided tour of the resident and barn when, coincidentally, Santa will also be visiting.
During December, visitors to Hagley or Nemours who show proof of purchase at one museum will get a 50-percent discount at the other. The discount applies to an adult ticket (including seniors), with a limit of two per proof of purchase. The discount is valid for daytime events only and is not valid for special events.
Christmas & Holiday Events in New Jersey
Hereford Inlet Lighthouse Christmas Tree Lighting
On December 7th, the Hereford Inlet Lighthouse in North Wildwood will light its holiday tree. In addition to the lighting, there will be free lighthouse tours, music and more to celebrate!
Christmas on the Plaza
Wildwood will kick the holiday festivities into gear with multiple events. On the 1st of December, they'll be holding the annual Family Holiday Celebration at the Wildwoods Convention Center. The all-ages event has music, dancing, face painting, and more, including a visit for the man in the red suit! December 7th and 8th. On the 7th, the Greater Wildwood Jaycees Christmas Parade will get things going with floats, fire trucks, and more. Then all weekend will be Christmas on the Plaza, a festival with a craft bazaar, entertainment and more for the whole family. Also on the 8th is the "Pinch the GrYnch" Boardwalk 5K Run.
On December 16th at Saint Ann Church, there will be a special Christmas concert and nativity with performances by The Notre Dame de la Mer Parish's Adult, Contemporary, and Children's Choirs accompanied by brass, strings, woodwinds, percussion, piano and organ under the direction of Jonathan Delgado.
WinterFest Ice Skating at Cooper River
Starting December 1st, Cooper River Park in Pennsauken will become a winter wonderland. The park's ice skating rink is the jewel of the WinterFest amidst other events to stay warm during the colder months. WinterFest runs through February 19th.
Save this post for later on Pinterest!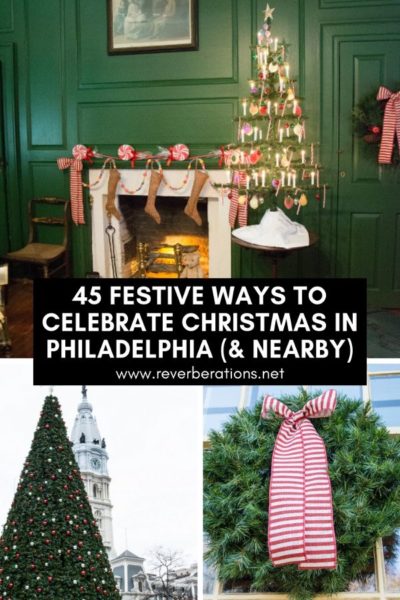 All opinions, as well as all photos, are my own.