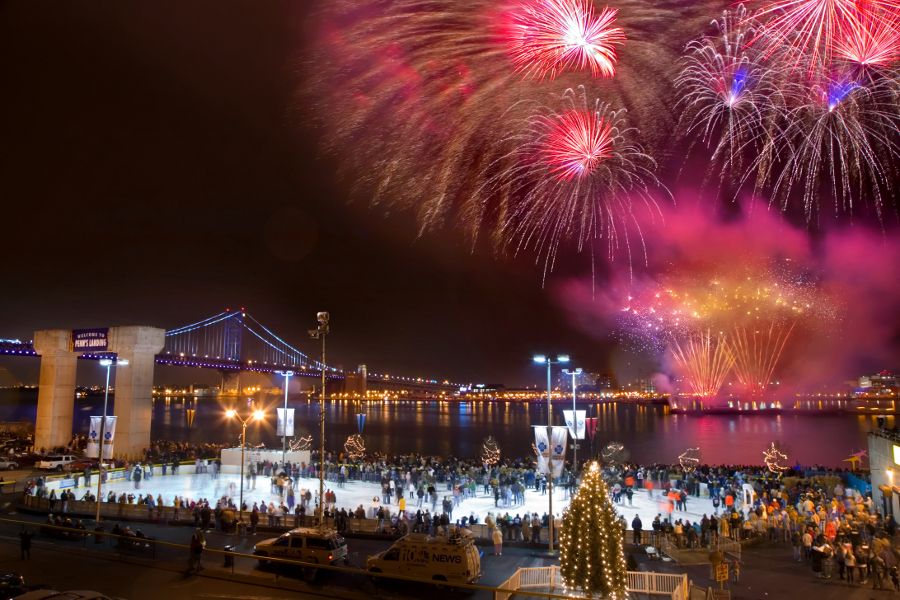 Bid 2018 a fond farewell and welcome 2019 with open arms! After celebrating the holidays with one of the many events around the region, the fun isn't over. If you are looking for a fun, unique New Year's Eve celebration in Philadelphia or nearby, I've got just the list for you. Whether you're looking to party hard early and then head to bed or looking to kiss your sweetheart at midnight under a sky lit up with fireworks, there's somewhere in Philly you can celebrate New Year's Eve. Take the day, or longer!, off and enjoy your last day trip from Philadelphia for the year. It's hard to believe that we'll soon be in the last year of the teens! And no matter where you go or what you do, have a good time and here's to a happy, healthy and safe 2019!
New Year's Events in Philadelphia
SugarHouse New Year's Eve Fireworks
The night sky over the Delaware River will be lit up twice on New Year's Eve thanks to the annual SugarHouse Casino New Year's Eve Fireworks. If you aren't a night owl, no need to worry. There is a show at 6 pm with another to take place at the stroke of midnight. It's a real Philly New Year's Eve tradition.
Mummers Parade
And speaking of traditions, SugarHouse is also sponsoring the annual Mummers Parade on New Year's Day. The extravagant and distinctly Philly tradition will see participants march from City Hall to Washington Avenue, starting bright and early on Tuesday morning.
Philadelphia Museum of Art Holiday Family Programs & Brunch
On New Year's Eve, the Philadelphia Museum of Art will continue their holiday family programs. Visitors will be able to express themselves artistically in the Balcony Studio. Then on New Year's Day the museum's new restaurant, Stir, will host brunch.
Philadelphia Orchestra's New Year's Eve Concert
There's no more classic kick-off to 2019 and farewell to 2018 than the Philadelphia Orchestra's annual New Year's Eve concert. Conductor Yannick Nézet-Séguin will lead the orchestra at Verizon Hall at the Kimmel Center for the Performing Arts.
Midnight From The Top
One Liberty Observation Deck has teamed up with Craft Concepts Group (the minds behind BRÜ Craft & Wurst, U-Bahn, Uptown Beer Garden, and Cinder Copper & Lace). The exclusive black-tie New Year's Eve bash takes place 57 floors up!
New Year's Events in Philadelphia's Suburbs
New Year's Eve Ball Drop in Media
Media will host its annual tradition of a New Year's Eve midnight ball drop. The festivities take place on State Street and kick off at 11 pm with music.
Kennett Square's Midnight in the Square
What do you get when you go to Kennett Square, the Mushroom Capital of the World, for New Year's Eve? Well, a midnight mushroom drop, of course! The Midnight in the Square event kicks off at 6:30pm. There will be a raising of the lighted mushroom at 8:45 pm. It's the perfect event to check out for young partiers that may not make it until the wee hours.
New Year's Events in Pennsylvania
New Year's Eve Tubing Party
Slide into the New Year at Blue Mountain Resort's annual snow tubing party. There will be a DJ, buffet, and more at this all-ages event.
New Year's Eve in Lancaster
Downtown Lancaster City will ring in 2019 with a free concert by local band One Too Many before lowering the Red Rose to fireworks at midnight. Au-Sam's Trolley Shop will keep revelers warm and fed with hot chocolate and light bites.
Hershey's New Year's Eve Celebration
You can start the party early on New Year's Eve at Hershey's Chocolate World. From 4 pm to 9 pm, there will be special activities for visitors of all ages plus appearances from the Hershey's Characters. Sounds pretty sweet!
Midnight Hershey's Kiss Drop
At ChocolateTown Square in Hershey, they will be dropping a larger-than-life-sized Hershey's Kiss at midnight. But that's not all. Former Journey frontman Steve Augeri will headline the free concert.
New Year's Events in New Jersey
Watch the Fireworks Aboard Battleship New Jersey
At 4 pm and 10 pm on New Year's Eve, revelers can board Battleship New Jersey for its New Year's Eve celebration. From the deck of the ship, you can enjoy either of the SugarHouse Casino New Year's Eve Fireworks on the Delaware River Waterfront. There will be music, food, and a bar, plus after the fireworks, the battleship's historic 5-inch gun will be fired. It'll be a blast!
If you're looking for a really fun and unique experience, you can even spend the night on Battleship New Jersey! Enjoy dinner and breakfast served at the chowline, a guided tour of the Battleship, and the opportunity to sleep in the bunks that the crew of the USS New Jersey once did. All that before watching the fireworks and welcoming 2019.
Grounds for Sculpture Dance & Dinner
Ground for Sculpture in Hamilton will be hosting a dance and a dinner at Rat's Restaurant on site at the sculpture museum. The event offers a choice of a five-course tasting menu or a la carte dining. And, of course, there will be a champagne toast at midnight to ring in 2019.
Save this post for later on Pinterest!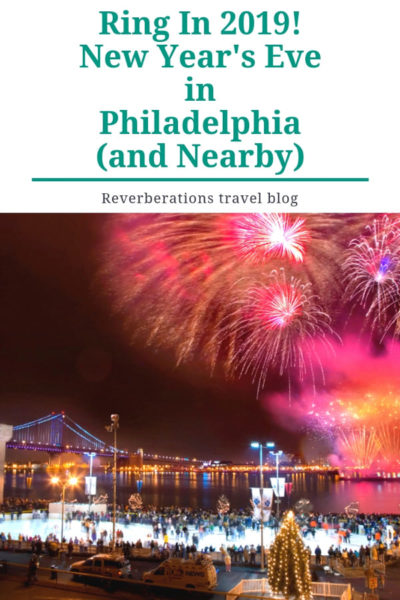 Photos by G. Widman for Visit Philadelphia®.