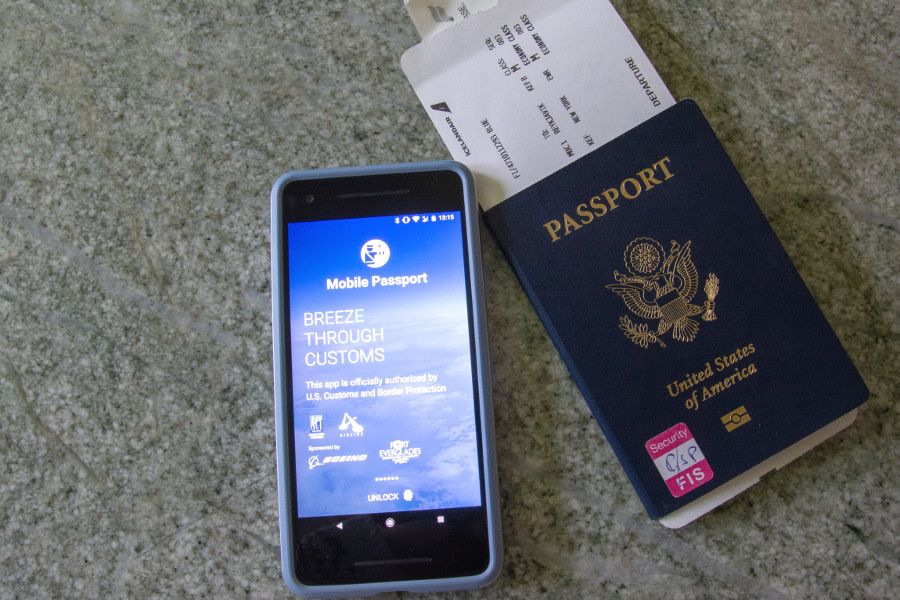 Thanks to the Mobile Passport app I was asleep in the final hours of my flight from Reykjavik, Iceland to Newark, New Jersey, while my fellow passengers were filling out customs forms. I had seen the app advertised online before leaving home and had convinced my husband that we should give it a try. It promised a quick trip through U.S. Customs and Border Protection on arrival back in the good ol' USA from abroad. It seemed too good to be true, I thought. But it was worth a try. The Mobile Passport app didn't disappoint!
About Mobile Passport
Since 2014, the Mobile Passport app has been helping travelers get more quickly and efficiently through US customs checks. Travelers must be US citizens within valid US passports and Canadian citizens with valid Canadian passports and B1 or B2 visa status.
And before you get nervous about giving your personal information to a third party, it's important to know that Mobile Passport is officially authorized by U.S. Customs and Border Protection. It's an important distinction.
As of the time of writing, Mobile Passport is in 24 US airports and one cruise port.
How Mobile Passport Works
Mobile Passport is an app for Android and iOS devices. The process is pretty easy. You can scan your passport ID using the phone or you can manually enter your info. Then you take a photo of yourself using your phone. Then, when you're within four hours of your destination, you answer a few standard questions (Did you bring any plants or animals? Were you around any livestock?) and submit.
The app generates a receipt with two QR codes (one for each of us) and displays the selfies we'd taken earlier.
When you arrive at your destination airport, you simply present your passport, the selfies on the app and scan the QR code. The officer will review everything.
My Experience Using Mobile Passport
While still sitting in Munich, Germany, as I sat waiting for my flight to Newark via Reykjavik with Icelandair, I pulled up the Mobile Passport app.
Filling in the Forms with Mobile Passport
I scanned, with a little difficulty, my passport. Then, magically, the form on the app filled in all my passport details — number, name, address and so on. Then using my phone I snapped a selfie. Done. My husband repeated the steps using my phone so that we were on the same submission. In less than ten minutes we were done.
Newark with Mobile Passport
Fast forward ten-plus hours later as we had safely arrived in Newark. As all the other passengers were checking their text messages, I submitted my Mobile Passport customs form. I simply sent the info we'd filled in in Munich and answered those questions. (No, I hadn't been around livestock.)
Newark has a dedicated line at customs and immigration for diplomats and Mobile Passport users. There was absolutely no line on the Saturday evening we arrived. Hopefully everyone thought we were diplomats as we headed straight to the U.S. Customs and Border Protection officer. We handed over our passport, showed him the selfies on the phone and then scanned the associated QR codes. Done. It took less than five minutes.
After collecting our luggage we had one more hoop to jump through before we were officially home. At the final U.S. Customs and Border Protection gate we again presented the app with the selfies and the QR code. Done. It took minutes.
It was shocking how quickly we were through everything. My husband, jokingly, said we can't tell anyone about the service because of how quick and efficient it is.
Now, if only Mobile Passport would come to Philadelphia!
All opinions are my own.